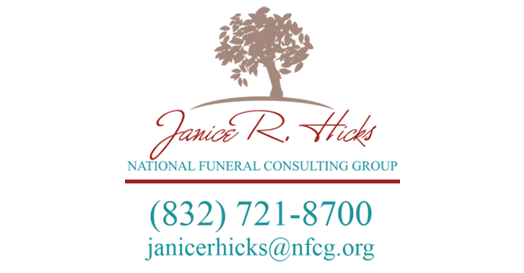 Click the image to view the

e

Obit

funeral program
Vera-Mae-Narcisse-1929-2017
On May 1, 1929 in Midland, Louisiana, Joseph Stephenson and Mary Johnson received special gift from God, their first child Vera Mae. Growing up in a small farming town in Louisiana, Vera spoke only Louisiana Creole until the age of 10. Her childhood and teenaged years were spent in nearby Crowley, La. She received her education at St. Theresa Catholic Church of Crowley, Louisiana.
When Vera became a young woman, she relocated to the big city of Houston, Texas and began her adult life. She married Cleveland Narcisse on November 14, 1953. Vera and Cleveland raised their two girls Wanda and Mary in the South Union neighborhood of Houston.
Mrs. Narcisse was a member of True Vine Missionary Baptist Church, under the leadership of Pastor Aaron Stewart, Jr. She attended services faithfully and truly loved her church home until her health began to decline.
Vera will be remembered as being strong, emotionally and physically. She loved using her hands. From early on, she loved to sew by hand. She never used a sewing machine, but she hand stitched everything from head to toe. Vera was a very talented seamstress, making everything for her girls from hats, dresses, socks & countless other articles of clothing and accessories. Cooking was also very high on her list, as she cooked everything from scratch, including homemade biscuits that her family loved. Per her children, she could also barbeque better than any man around. She also enjoyed rearranging her furniture and being an all around "handy" woman.
When Vera wasn't using her hands to provide for her family, she enjoyed watching television. Her favorite show well in to her golden years remained The Three Stooges. Even as her health declined, "Larry, Curly & Moe" were always able to get a good laugh from Mrs. Vera.
Being from Louisiana, Zydeco music had always been her favorite. She also enjoyed listening to Bobby Blue Bland and Sam Cooke.
Vera's life was not without struggle, but her character and ability to overcome is an inspiration to us all. Every time she would get in a vehicle and reach her destination, she would proclaim, "I thank God for EVERYTHING"! We can wipe away any tears of sadness, knowing that when she got to heaven, she thanked God for everything, and He replied, "Well done, my good and faithful servant!"
Mrs. Narcisse completed her early journey on October 9, 2017, at the age of 88. She will meet in heaven, her husband: Cleveland, her mother: Mary Johnson, her father: Joseph Stephenson, sister: Irene Johnson, and aunt, Irene Harris
She leaves to cherish her memory, her children: Wanda Alford-Copeland (Charles) Mary Hall, her brother: Felix Johnson her grandchildren: Dexter Narcisse, Marcel Narcisse, Dallas Henry-Miller, Kashonda Narcisse, Shameika Hall, Ronald Hall Jr., LaTasha Alexander-Allen, Shana Copeland,
Shawna Copeland, her great-grandchildren: Tummara Sanders, Dion Narcisse, Wyan Narcisse, Nicholas Narcisse, Donovan Narcisse, Darius Narcisse, Dedrick Narcisse, Dexavier Thomas, Qualisha Henry-Phipps, Markeil Henry-Miller, La'Hajah Henry-Johnson, Landell Miller, Tiera Charles, Tyniquewa Narcisse, Tyrone Foster, Jr., Kaishon Foster, Kailyn Foster, Le'Ron Hall, Jynese, Jaylah, Javian Bell, Sianna Bell, Kwade Alexander, Kieran Alexander, Estevan Lawrence, Chandler Lawrence, Octavious Waiters, K'lyrica Allen, K'Myrica Allen, Lariah Narcisse, Diamond Narcisse, Shaneice Narcisse, Daysia Narcisse, Jermaine Sanders, Johnathan Sanders, Destiny Henderson, Asya Henderson, Jeremiah Henderson, Da'Shawn Henderson, London Richmond, Saniya Jones, Traevon Narcisse, and a host of nieces and nephews extended family, and good friends.